For some reason I've neglected to mention various theatre trips as of late. I'm feeling lazy so here's a list:

1) Play - Clybourne Park (thanks to
redderz pointing it out to me). In summary = loved this, both Martin Freeman's performance (in fact everyone's performances), and the screenplay - best thing I've seen in ages (reminded me of National Anthems @ Old Vic a few years back, except the critics didn't like that play as much as they have Clybourne Park) I wrote a mini review on my i heart subtitles blog here. Also note to self - must seek out more of Martin Freeman's work.

2) Play - House of Games. Enjoyed it, good fun, nice twist but not as good as Mamet's own plays even if it is based on a screenplay that he wrote. Shallow reasons behind going. Well shallow and geeky reasons - actor Michael Landes (Jimmy Olsen in season 1 of Lois & Clark: The New Adventures of Superman) played the male lead: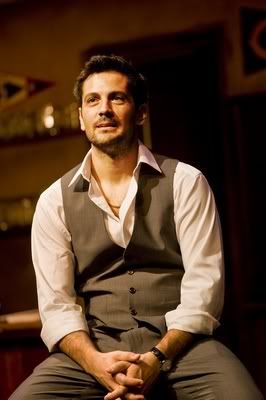 See the appeal? ;) I had the chance to speak to him afterwards since I saw him in the theatre bar but chickened out *face palm* In my defense its not like
missy_manic didn't feel the same way. I thought I'd got over my teenage crushes *pff!*

3) Musical - Priscilla Queen of the Dessert: The Musical. Love the film, and loved the musical. Great fun, entertaining, and great songs. Yes, camp. What do you expect?! Has the funniest funeral scene I've seen in a musical ever.

4) Plays - Terror Season, Southwark Playhouse:

Country
by April De Angelis. Directed by Hannah Eidinow.

Elaine's husband has died. But does he not live on in the memory? In the things he did? And in the things he is yet to do? In the peaceful seclusion of the country, something is stirring...

The Exclusion Zone
Written and Directed by Mark Ravenhill.

A couple meet online and venture into the countryside, talking about seeing a horror film upon their return to the city. But real-life horror soon descends as their inhibitions unravel.

Reanimator
by William Ewart. Adapted from short stories by HP Lovecraft. Directed by Adam Meggido.


Went to this season last year. Three short plays on the theme of horror. Great venue for it, enjoyed them but not as much as the ones I saw a year ago. I annoying struggled with The Exclusion Zone - so much of the dialogue spoken by actors in the dark I couldn't lip read it damn it! Annoyed because I loved Ravenhill's play and performance in the previous season.